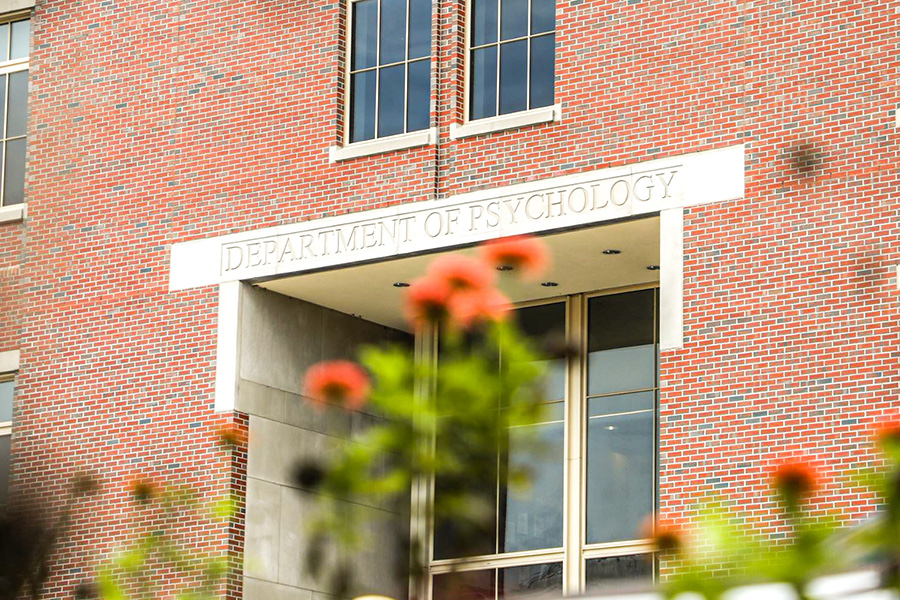 About the Program
The Department of Psychology offers a 5-7 year doctoral program in Clinical Psychology which is an APA-Accredited* program based on a clinical science model.
We provide concurrent, integrative training in clinical science and clinical service delivery so that our graduates are prepared not only to apply current knowledge, theories, and techniques, but they are able and motivated to remain at the cutting-edge of the field. Ideally, they will manifest a lifelong capacity and desire to develop, specify, and test their hypotheses about whatever they are doing in the psychological arena.
The three main training objectives are to produce clinical scientists with foundational knowledge of the science of psychology and the practice of psychology; to produce clinical scientists who are capable of contributing to the body of scientific knowledge; to produce clinical scientists who take an investigative approach to the understanding of psychopathology and the practice of clinical assessment and intervention.
The excellence of our program of training has been recognized by the Association for Behavioral and Cognitive Therapies and US News & World Report.
Questions related to the program's accreditation status should be directed to the Commission on Accreditation: (Office of Program Consultation and Accreditation, American Psychological Association, 750 1st Street, NE, Washington, DC 20002, Ph: 202-336-5979; E-mail: apaaccred@apa.org; Web: www.apa.org/ed/accreditation).
Clinical Practica
Clinical training occurs through applied experiences or practica that are integrated within the program. The Clinical program has its own research and training clinic that is located in the Psychology Department Building. A two-year practicum in the Psychology Clinic is required of all students beginning in their second year and this serves as the primary clinical training activity for all students. The in-house Clinic practicum training has several important features. First, all clinical activities are scientifically guided, and the Psychology Clinic is an active place for clinical research. Second, it provides exposure to a wide variety of outpatient mental health problems and emergencies in a population that represents a fairly broad cross-section of the community (a relatively small percentage of cases are students). Third, nearly all supervisors at the Psychology Clinic are full-time Clinical program faculty, each trained in a scientifically-oriented clinical program. A resident licensed Psychologist is available in the clinic as well for consultation and to provide supervision. Supervision is provided in small "teams" that consist of one or two second-year students and one or two advanced students, with the more experienced clinicians modeling integration for novices, while incidentally getting some informal supervisory experience in the process. Fourth, because many of the supervisors teach the required and elective clinical courses in psychopathology, assessment, and treatment, they are quite familiar with the students and what they know, and can coach them in how to put that knowledge into practice. In addition to the required two-year practicum in the Psychology Clinic, students can obtain additional clinical experience via external clinical placements in the community. These practica offer the opportunity to get additional training with populations not as readily seen within the Psychology Clinic (e.g., geriatric, persistently mentally ill, forensic) and/or in additional training settings (e.g., inpatient hospital).
Students admitted to the Clinical Psychology program will be required to undergo federal and state criminal background checks prior to first semester registration. Positive results may change a student's admission status because of the practicum requirements of the program.
Psychology Clinic
The Psychology Clinic provides an excellent environment for an introduction to the practice of clinical psychology and for conducting clinical research. The director is Dr. Thomas Joiner, who is the Bright-Burton Professor of Psychology and a Robert O. Lawton Distinguished Professor, and an internationally known psychopathology researcher. He has implemented policies and procedures that are aimed at facilitating students' integration of science and practice. First, he has made it clear that students are expected to use empirically supported treatments with their patients. That is, where there are clearly supported treatments for patients' primary diagnosis, those treatments are to be used. Where there are no clearly supported treatments, treatment plans are to be developed with psychological science as the starting point. The director regularly spot-checks patient files to encourage proper documentation, accurate diagnosis, and diagnosis-based and empirically supported treatment plans. Second, all students are required to regularly engage in ongoing research, based at the clinic. This has the advantage of reiterating the role of science in treatment, and of providing students with clinic-based research training. Finally, students enrolled in practica at the Psychology Clinic meet weekly with the Clinic Director to discuss pertinent readings, to view training tapes, or to listen to presentations by faculty or psychologists from the community. Dr. Joiner also regularly engages in role plays of therapy sessions of patients that student therapists have found to be particularly challenging. These role plays have received rave reviews by the students. All of these characteristics of the setting and supervisors facilitate modeling of and insist upon the application of theory and research to a wide variety of "real-world" clinical problems.
External Placements and Internship
Students are eligible for practicum placements in community agencies beginning in their second year in the program. Supervision at all practicum sites is by psychologists who have been approved by our faculty. Available placements are quite diverse, ranging from child learning disability assessments and outpatient treatment of adjustment disorders to work with chronically disturbed psychiatric inpatients. Varied racial and ethnic minorities and socioeconomic status are also represented. Most students have more than one such placement and it is not uncommon for individuals to accumulate 2,000 or more hours of supervised clinical experience before internship. All of these community placements provide stipends to students for their clinical work. All graduate students in the clinical psychology program are required to complete an APA-accredited predoctoral internship. Although there are two accredited internships in close proximity to the university, our students apply to internships all across the country. Despite the "supply and demand" concerns about predoctoral internships in clinical psychology, our students are successful in obtaining their top-ranked choices of APA-accredited internships. Some examples of the internships obtained recently by our students include: Brown University Consortium, Medical University of South Carolina, Federal Correctional Institute at Butner, NC, Massachusetts General Hospital/Harvard Medical School, Minneapolis VA Medical Center, Children's Hospital in Minneapolis, Durham VA Medical Center.