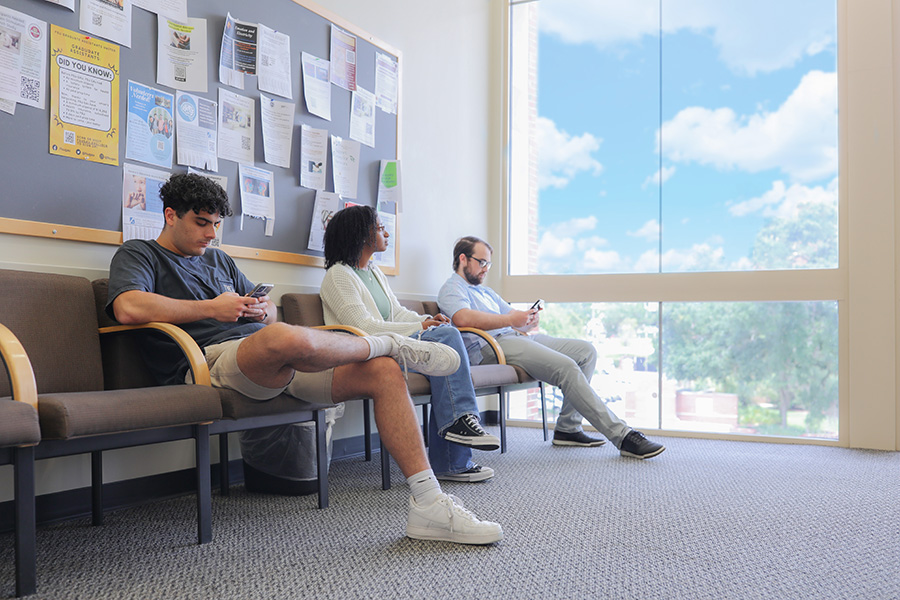 The Psychology Clinic is a mental health service, training, and research center operated by the Department of Psychology at Florida State University. We are dedicated to providing empirically supported treatment and assessment services to Tallahassee and surrounding communities.
Services are provided by doctoral level student therapists in the Clinical Psychology Ph.D. program under the close supervision of faculty members. The Clinical Psychology program is accredited by the American Psychological Association (APA Office of Program Consultation and Accreditation, 750 First Street, NE, Washington, DC 20002-4242; 202-336-5979). The Clinic Director is Thomas E. Joiner, Jr., Ph.D., a world renowned researcher and clinician.
Assessment and treatment are available for adults, adolescents, and children. Assessment and treatment services are available to everyone in the community who contacts the Clinic, regardless of affiliation with the University.
Psychology Clinic
Florida State University
PO Box 3064303 Tallahassee
1107 West Call Street
Tallahassee, FL 32306-4303
Clinic Hours:
Monday-Thursday - 8am to 8pm
Friday- 8am to 4pm
Phone: (850) 644-3006
FAX: (850) 644-0924
Therapists
Our therapists (psychological trainees) are advanced doctoral students in the Clinical Psychology Ph.D. program at Florida State University. The FSU Psychology Clinic is the first clinical placement for second year doctoral students in clinical psychology at FSU. Our therapists are in their second, third, or fourth years in the program. Each therapist receives approximately three to four hours per week of supervision with a psychologist. In addition, two hours per week are spent in staff conferences devoted to case presentations and intensive instruction regarding diagnostic differentiation and treatment techniques. Our therapists generally carry a caseload of four to five clients, who they see on a weekly basis.
2022-2023 Psychological Trainees
Amy Lieberman, MS
Assistant Director
Sophie Abber
Sarrah Ali
Katie Broshek
Enrique (Henry) Cibrian
Alissa Cole
Sally Cole
Chris DeCamp
Fatou Gaye
Kelsey Lowman
Tapan Patel
Lee Robertson
Morgan Robison
Nick Santopetro
Ted Schubert
Anika Sigel
Brittney Thompson
Justine Thompson
Supervisors
Clinic Director
Associate Director
Supervisor
Supervisor
Supervisor
Supervisor
Services
The most common problems for which our therapists provide treatment are Mood Disorders/Depression, Anxiety Disorders, Eating Disorders, Personality Disorders, Substance Use Disorders, and Childhood Disruptive Behavior. See the lists below for the types of therapies and assessments offered. We do not provide Emergency or Walk-In Services, Psychiatric Evaluations or Medication Prescriptions, Child Custody Evaluations, or Couples or Family Therapy.
Individual Therapy
Children
Adolescents
Adults
Group Therapy
Parent Strategies
Facing Your Fears
Rebuilding After Trauma
DBT Skills Training for Adults
Hoarding
Substance Use
Psychological Assessment
Learning Disorders
Gifted Evaluations
ADHD Evaluations
Diagnostic Evaluations
Getting Started
Fees for Services
Screening Appointment for Therapy Services
$25 per individual.
Fees Per Session
The FSU Psychology Clinic works on a sliding fee scale based on your or your family's income and number of family members supported by that income. Hourly therapy rates range from $20-$60 per hour.
Court-ordered clients are seen at a rate of $60 per hour - Excludes all evaluations related to child custody.
Group therapy is provided for $8 per group session.
Assessments
Educational Evaluations (e.g., Learning Disability and ADHD) - $400
Gifted Evaluations - $160
Diagnostic Evaluations - $135
Payment
Clients are expected to pay at the time services are rendered. The Clinic's ability to operate while continuing to charge the modest fees is directly dependent upon our ability to collect a high percentage of the fees we do charge.
Method of payment: Cash, checks, credit cards (Visa, Mastercard, American Express, & Discover), and the FSU Card.
Insurance
The Psychology Clinic does not bill insurance. Psychological Trainees are not contracted providers with any insurance companies.
Therapy Services
The steps in the application process are as follows:
Schedule a screening interview at the clinic by calling: (850) 644-3006. The screening interview will be conducted by a graduate student psychological trainee. The screening interview is meant to give you information about the clinic, give you a chance to ask questions, and to get basic information from you about why you are seeking services at this time. Screening Fee is $25.
Before the screening, complete the appropriate application (adult or child/adolescent) for services, including the FSU Psychology Clinic Income Information form, the Consent for Taping, Observation and Research Participation form, and for children a packet of psychological questionnaires. You can either come 1 hour before your appointment to complete the forms or the application materials can be mailed to you at the time you schedule the screening appointment.
For adults and adolescents (14-17) - complete the Minnesota Multiphasic Personality Inventory-2 (MMPI-2) or Minnesota Multiphasic Personality Inventory - Adolescent version (MMPI-A), as applicable. This usually takes 60--90 minutes to complete and can be scheduled on the day of your screening or make an appointment to return to the clinic.
You will be assigned to a therapist after completing the screening interview, various psychological questionnaires, and the MMPI-2 or MMPI-A, as applicable. Cases are usually assigned within a few weeks of completing the above process. This process may take longer if there is a waiting list for services. Your assigned therapist will contact you to set up an appointment.
If it is determined that we cannot meet your needs, you will be provided with appropriate referrals to other community resources.
Please arrive 20 minutes before your scheduled screening appointment to complete the first portion of our online questionnaire. The remaining portion will be completed after your appointment, either in the Clinic or at home.
Assessment Services
For an assessment, please call the FSU Psychology clinic to receive a paper packet to complete. The packet includes measures to be completed and returned to the clinic prior to being assigned a therapist.
Assessments for children also include measures to be completed by the teacher. After completing the packet, the client/parents of children will meet with a therapist for approximately 2 to 5 sessions. These sessions are focused on obtaining three primary types of information: (a) a comprehensive developmental, medical, educational, family, and psychological history; (b) a comprehensive clinical interview that reviews a wide range of behavioral and emotional problems; and (c) assessment of intellectual functioning and educational achievement.
Assessments for children may also include an observation of the child at school and an interview with the teacher.
Clients/parents of children attend a feedback session approximately four to six weeks following the last evaluation session and receive a detailed written report of all results, including a diagnostic formulation and treatment recommendations.
Research
The FSU Psychology Clinic is a research and training facility affiliated with the Clinical Psychology Program of the Department of Psychology at Florida State University. Because the Clinic serves as a research facility for the Department of Psychology, graduate students and faculty occasionally conduct research projects in the Clinic. Consent for use of your de-identified information to be used in clinic research is obtained during the application process and your participation does not require any extra steps beyond normal clinic procedures. However, you will have the opportunity to have your information excluded from research and you can discuss this option with your therapist or clinic staff.
In addition, you may have opportunities to actively participate in research projects during your time as a Clinic client. Your therapist will discuss these opportunities with you if and when they arise. Your treatment at the Clinic is not impacted by your participation or lack of participation in any research project.
Common Questions
Therapy is the process of talking with a person who is trained to help you resolve issues of concern and acquire the skills to reach your life goals. Therapy attempts to help you develop more awareness of your interpersonal style and behavioral patterns, and then actively design explicit strategies for making desired changes. It is a process that can help you become more aware of choices and options that can lead to more effective decision making and more satisfying relationships with others. At the FSU Psychology Clinic, we use empirically supported therapies. This means that we use therapies that have been scientifically evaluated in clinical trials and found to be helpful for the treatment of certain disorders. Feel free to ask your therapist questions about the therapy they are recommending for you.
All FAQs
What is My Role in Therapy?
Therapy is a cooperative interaction between you and your therapist. Both you and your therapist are responsible for an effective treatment experience, and open communication between you and your therapist is essential. Your active participation in the therapy process can greatly facilitate reaching your goals. Also, it is extremely important that you regularly attend scheduled sessions. Successful psychotherapy requires greater participation and cooperation from you than is true of treatment for most physical problems. Your efforts play a crucial role in determining how much benefit is received. Your active participation in therapy usually requires the completion of "homework" between the sessions. This homework might be written work, or it might entail reading, or even doing certain activities. You will get the most out of therapy and see the quickest results if you complete the between-session work your therapist assigns to you. If you have any questions or concerns about therapy goals or procedures please talk with your therapist.
What Can I Expect During Therapy?
After you have completed an application for services, filled out the screening measures, had a screening interview, completed the MMPI (adults and adolescents), and paid your application fee your application is sent to the Assistant Director of the clinic for assignment to a therapist.
Clients are generally assigned to a therapist within a few weeks, unless there is a waiting list. If there is a waiting list, the Assistant Director will call you periodically to tell you where you are on the waiting list. If you are concerned about the status of your assignment, you may also feel free to call the Assistant Director yourself at (850) 644-3006 to inquire.
Once you have been assigned to a therapist, your therapist will contact you to schedule an initial appointment. During this initial appointment, you will be interviewed for 90 minutes about yourself and the reason(s) you have decided to seek our services at this time. This is a very important interview. It establishes a relationship between you and your therapist that will allow you to feel more comfortable and at ease during therapy. It also helps your therapist determine the factors that might be contributing to the problems you are experiencing.
Some people have concerns that they are embarrassed to tell others, such as alcohol and substance use, physical abuse, marital problems, etc. Do not be shy about providing "embarrassing" information to your therapist. The more honest and open you are, the easier it will be for your therapist to help you. While the interview is being conducted, the therapist may take notes during the conversation. In addition, it is our clinic policy to record sessions.
Once the interview is completed, your therapist will schedule your next appointment date and time with you. She or he will also tell you what you can expect to happen during future therapy sessions. Typically, at the next session your therapist will discuss your diagnoses with you, the results of the questionnaires you completed when you applied for services, and present you with a recommended plan for treatment. Therapy sessions after the initial appointment are weekly, and about 50 minutes in duration.
What is Group Therapy?
We provide evidence-based group therapy that has been found to be effective through scientific research. The group therapy programs we offer are structured and follow a planned agenda each meeting. Group therapy is rewarding for many people because difficulties and concerns are addressed in a supportive and interactive environment. In addition to the support and empathy from peers, therapists work with clients to learn new strategies to help improve daily functioning, relationships with others, and quality of life. Sometimes, clients choose to attend group therapy in addition to participating in individual therapy and sometimes clients attend group therapy only.
What Can I Expect in Group Therapy?
Each session of group therapy generally lasts 1 to 2 hours. Most groups are run by 2 graduate student psychological trainees, who are supervised by licensed psychologists and/or FSU Psychology Department faculty. Groups consist of approximately 3 to 10 group members. Typically, group sessions include a combination of discussion, teaching of cognitive and behavioral skills, and skills practice. Between-session practice of skills discussed in group is also required in order to make treatment gains.
What Is The Purpose Of An Assessment?
Assessments at our clinic are conducted in order to answer questions about intellectual abilities, learning disorders, attention deficit/hyperactivity disorder (ADHD), psychological diagnoses, and behavior problems. Assessments can identify specific areas of cognitive and behavioral strength and difficulty and personalized recommendations are provided that allow clients to build on strengths and reduce difficulties. Assessment services are available for children, adolescents, and adults.
Why is Consent for Recording Sessions Required?
The Florida State University Psychology Clinic is a training facility for graduate students in the Department of Psychology. Because trainees need to receive thorough supervision, it is necessary for sessions to be recorded and periodically reviewed by supervisors. These recorded sessions are used only for approved Clinic training activities. They are only accessible to Clinic staff on our highly secure server and are not linked with names or any other identifying information. Sessions are automatically deleted approximately two weeks after they are recorded, although occasionally recordings are saved for training purposes.
Consent to the above procedures is required of all clients who receive Clinic services.
What Ethical Guidelines Do The Psychology Clinic Therapists And Staff Adhere To?
The therapists at the FSU Psychology Clinic follow the Standards of Professional Conduct of the American Psychological Association. These guidelines are available at: http://www.apa.org/ethics/
The FSU Psychology Clinic does not discriminate on the basis of age, gender, race or ethnicity, nationality, religion, sexual orientation or ability/disability.
Are My Records Confidential?
People seeking psychological treatment often have questions about the confidentiality of therapy services and professional records. Within the purview of the Florida Public Records Law (119 F.S.) the Clinic staff will safeguard confidentiality and client's relationship with the Clinic will not be revealed to anyone without prior written consent. However, under certain conditions, the Clinic is legally and ethically obligated to release information about a client whether or not the client approves. These conditions are:
Suspected abuse (physical, sexual, or neglect) of children, the aged, and the disabled: We are required by law to report suspected abuse to the Florida Department of Children and Families.
Potential homicide or suicide: In instances where harm to the self or others is deemed to be a high and imminent risk, we may be required to inform family members, health providers, or rely on emergency services. This is rare and only in circumstances of immediate danger to oneself or others.
Court-order: We must release a client's records if a judge issues a court order compelling us to do so.
Clients are typically notified ahead of time in the event confidentiality is broken or records are released for of any of the above three reasons.
Both the law and the standards of our profession require that we keep appropriate treatment records. At the FSU Psychology Clinic, written and electronic records are securely maintained. We are required by Florida law to keep clients' records for a period of 7 years. Clients have the right to request release of records, if they so choose.
How Is Therapist-Child/Adolescent Privacy Handled?
Parents and legal guardians have a legal right to most information exchanged between a child/adolescent and therapist, including verbal exchanges and written reports. Sometimes, however, parents, children/adolescents, and the therapist agree that a level of privacy between the child/adolescent and the therapist is in the best interest of the child/adolescent. The specifics of those agreements are made on an individual basis. There are situations in which privacy/confidentiality will not be maintained between the child/adolescent and therapist and these will be clearly described during the intake process.
What Do I Need To Know About Confidentiality for Court-Order Treatment?
Different confidentiality policies apply with persons court-ordered for therapy, as there is typically communication between the therapist and other agency or court personnel (e.g., Parole Officer or Department of Children & Families case manager). Court-ordered clients are required to sign a Release of Information Form upon application for services, giving clinic personnel permission to communicate with appropriate agency or court personnel. However, the nature of the information released will be discussed with the client at the beginning of therapy.
Emergency Contacts
The FSU Psychology Clinic is not equipped to provide emergency services to non-clients. If you have an emergency and are in need of immediate mental health attention, please call one of the following numbers. All area codes are (850).
See Full List
Suicide Prevention Lifeline
1-800-273-TALK
Helpline-24 Telephone Counseling and Referral Service
211
Positive Alternatives to Hospitalization (PATH)
2634 Capital Circle NE
850-523-3300 - 8AM-5PM
211 - after hours
Tallahassee Police Department
911 or 850-891-4200
Leon County Sheriff's Office
911 or 850-922-3300
Wakulla County Sheriff's Office
911 or 850-926-7171
Refuge House
(for victims of domestic violence;
includes housing in which the location is confidential)
850-681-2111 - available 24 hours
Crisis Management Unit
(For staff, faculty and students, or anyone
who has an emergency while they are on campus)
911 or 850-644-1234
Psychiatric Emergency Response Program
850-431-6507
(8AM-11PM; M-F; 11AM-9PM; Saturday and Sunday)